Wow, what a fantastic President's Trophy Night! Thank you to everyone who came and supported our young performers this afternoon, as well as everyone who worked so hard behind the scenes to make the event happen. It was great to see the talent on stage, beaming with enthusiasm and excitement.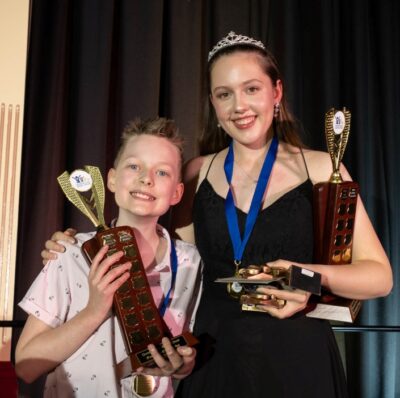 This year saw a new award judged and presented by our Accompanist, Dale Lingwood, the Working with Accompanist Award. Of the entrants who chose to be accompanied, this award concentrated on the synergy that must exist for a performance to be outstanding, an important facet of performing that is often overlooked.
Congratulations to each and every one of our finalists – you were amazing!
Results were:
Solo 10-13 years
1st Henry Hedger
2nd Lauren Kidd
3rd Arelia Bravo
Solo 14-18 years
1st Jacqui Trappett
2nd Kate Brooks
3rd Caitlin Trappett
Junior Group
1st – Diya Kumar & Sahil Kumar
Senior Group
1st – Jacqui Trappett & Kate Brooks
Junior Encouragement Award
Senior Encouragement Award
Group Encouragement Award
Lucy Fitzpatrick, Jane Forday & Zalia Eagle
Working with Accompanist Award
Vice-President's Trophy
President's Trophy
The photo is of our Presidents Trophy and Vice Presidents Trophy winners, Henry Hedger and Jacqui Trappett.