Want to join?
Whether you are just starting on your singing journey, or you've been singing your entire life, we're looking forward to meeting you at a rehearsal soon. Simply fill out the contact form and one of our ensemble administrators will contact you to organise attending a rehearsal.  These are held at the Old Museum Building (Bowen Hills) on a weekly basis.
Fill out this form, or if you like just send us a message and we'll get back to you shortly!
Email: admin@queenslandshowchoir.com.au
Remember to checkout the individual ensemble pages for some more details and to find the best ensemble for you.
Remote Rehearsals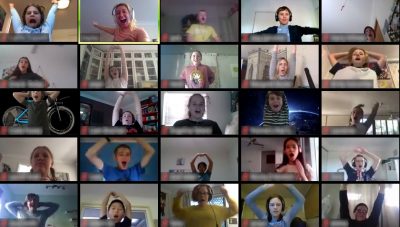 For singers based over 100 Kms from our home base in Bowen Hills, Brisbane, we're offering three of our choirs (QYV, Voiceworks & Vox Populus) remote rehearsals via Zoom.
We make sure our zoom rehearsals are fun and engaging. Only $100 per semester. Just mention this option when filling out the form.