In response to the COVID-19 pandemic, QSC has transitioned our choirs online. Please see the Ensemble pages for information on each group.
Queensland Show Choir gives kids, teenagers, young adults and not-so-young adults the chance to sing with others, improve their vocal ability and musicality, perform at events big and small, and become part of our friendly and supportive choir community.
At Queensland Show Choir, we love to sing. Our musical directors and artistic staff are well-respected professionals who love sharing their expertise. Our choreographer (or 'choralographer') gets us moving like we never knew we could! So, our members are always learning new skills – no matter what their age – and become more confident in themselves, and as performers, every day.
Many of the Queensland Show Choir ensembles are regularly asked to perform publicly – everywhere from suburban Christmas carol nights to conferences to presenting the annual Brisbane Sings concert at the Queensland Performing Arts Centre. We often play with a live band and guest artists. And we've even backed Australian hip hop band The Hilltop Hoods!
Of course, the best thing about joining the Queensland Show Choir is that sense of belonging – because as we sing and rehearse and perform and improve and laugh along with each other, we make lifelong friends.
Come Sing With Us
"As long as we live, there is never enough singing" Martin Luther
Upcoming Events
Back for 2020
We are so excited that all four of our ensembles have returned for 2020. Poco Voci, Queensland Young Voices, VoiceWorks and Vox Populus are working on exciting new repertoire for performances later in the year.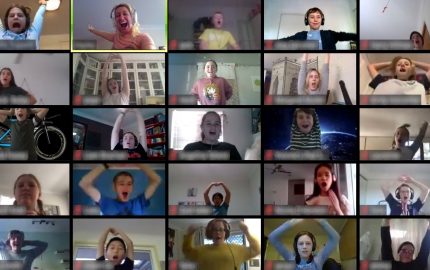 Online Transition
QSC has recently made the transition online, so we can continue our passion for facilitating group singing, even during isolation. For more information on Poco Voci Activity Videos and eChoir Rehearsals for QYV, VoiceWorks and Vox Populus, please visit individual ensemble pages.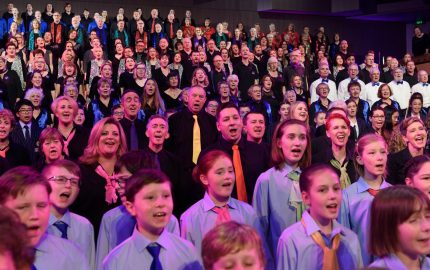 RSL ANZAC ePERFORMANCE
Isolation hasn't stopped the QSC echoir from joining their voices together in song, with this performance of 'Advance Australia Fair'. A collaboration with RSL Queensland, we are proud to commemorate ANZAC Day online in place of our usual ceremonies and performances.
In the lead up to ANZAC Day this year we reached out to Queensland Show Choir to help us amplify the ANZAC Spirit! This amazing community choir – made up of members aged 5 to 70 – recorded over 80 individual videos which it then merged into this moving version of Advance Australia Fair. We don't envy Jana Koelmel Film & Photography's job in editing and sound mixing so many videos together!#ANZACSpirit

Posted by RSL Queensland on Wednesday, 22 April 2020
Rehearsals 2020
Term 1: February 1-April 6
Term 2: April 27-June 29
Term 3: July 13-September 21
Term 4: October 5-TBC
Come Sing With Us
Ready to join the Queensland Show Choir?
Or have a few more questions?
Get started by sending us a message. We'll get back to you pronto!
Hire Queensland Show Choir for your Event
Maybe you need a singing flash mob for your next conference dinner. Or a sweet vocal ensemble for a wedding, fete, corporate party or product launch. Queensland Show Choir has singers of all ages ready to rock'n'roll, soothe or excite. We'd love to workshop your ideas to come up with a performance that's perfect for your event.
Contact us and let's start planning!
Hire Us