In Term 4 all QSC ensembles will return to some format for in person rehearsals, under the guidance of our Health Management Plan. Please see the Events below and individual Ensemble pages for further information. Last Updated: 7th of October 2020
QSC HEALTH MANAGEMENT DOCUMENTS:

QSC HEALTH MANAGEMENT MEASURES:
> Limited rehearsal numbers – We've improved on the government's capacity allowance (50 people) and limited the number of choristers attending rehearsals to a maximum of 30 in the main room.
> Zoom rehearsals – We've made all rehearsals available on Zoom for those who cannot attend in person due to limited numbers and/or those feeling unwell on rehearsal day.
> Physical distancing – We've implemented floor markings to ensure more than 1.5m separation, and limited social interactions during rehearsals.
> Safety measures – We've provided hand sanitiser and introduced methods to enable contact tracing. We use natural ventilation rather than air-conditioning. We regularly remind families about our COVID-19 safety measures and their responsibilities.
> More cleaning – We regularly clean and disinfect all furniture and equipment used.
> Monitor and review – We've kept up-to-date with the COVID-19 situation in SEQ and immediately reverted to online rehearsals when required by the CHO. We regularly review our Health Management Plan to ensure it aligns with current regulations.
QSC REHEARSAL SNAPSHOT: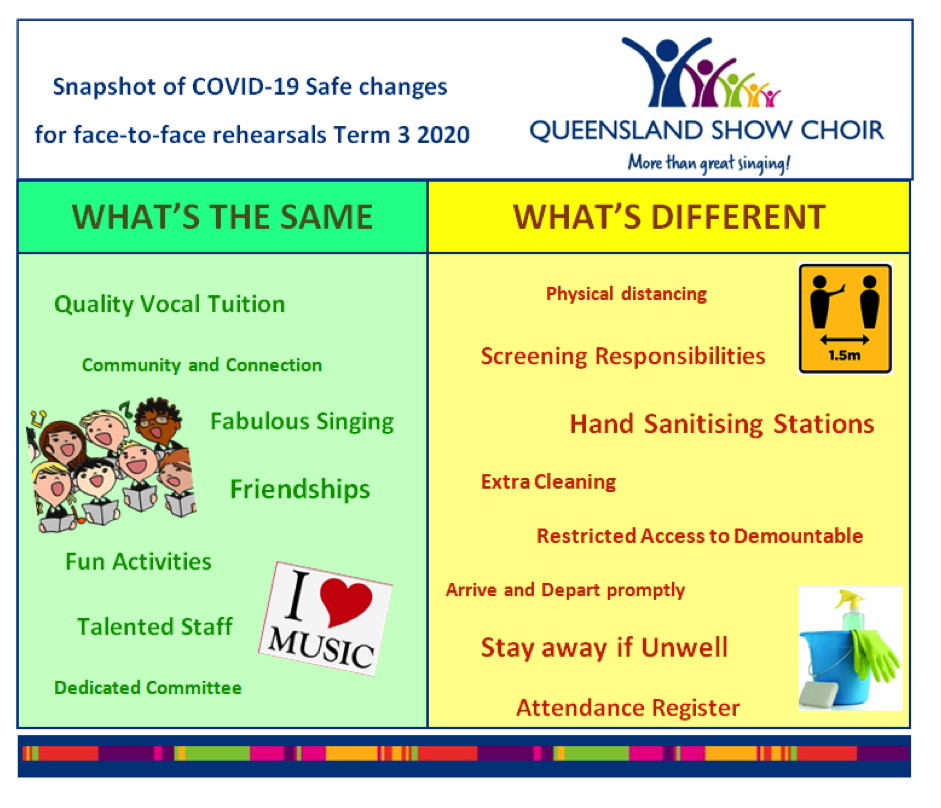 Queensland Show Choir gives kids, teenagers, young adults and not-so-young adults the chance to sing with others, improve their vocal ability and musicality, perform at events big and small, and become part of our friendly and supportive choir community.
At Queensland Show Choir, we love to sing. Our musical directors and artistic staff are well-respected professionals who love sharing their expertise. Our choreographer (or 'choralographer') gets us moving like we never knew we could! So, our members are always learning new skills – no matter what their age – and become more confident in themselves, and as performers, every day.
Many of the Queensland Show Choir ensembles are regularly asked to perform publicly – everywhere from suburban Christmas carol nights to conferences to presenting the annual Brisbane Sings concert at the Queensland Performing Arts Centre. We often play with a live band and guest artists. And we've even backed Australian hip hop band The Hilltop Hoods!
Of course, the best thing about joining the Queensland Show Choir is that sense of belonging – because as we sing and rehearse and perform and improve and laugh along with each other, we make lifelong friends.
Come Sing With Us
"As long as we live, there is never enough singing" Martin Luther
Upcoming Events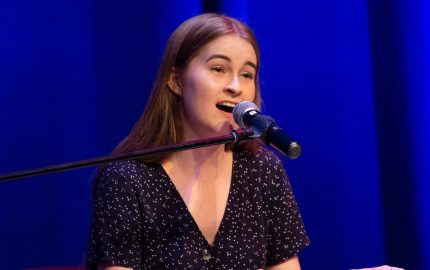 PRESIDENT'S TROPHY NIGHT 2020
On Saturday the 19th of September QSC welcomed friends and family for a socially distanced President's Trophy Night Concert. In a spectacular evening of entertainment, that was also live streamed to audiences around the country, 18 incredible young finalists performed a wide range of repertoire, from musical theatre to rock. QSC would like to congratulate all the finalists on their outstanding efforts, as well as thank special guest and adjudicator Annie Lower and the amazing team of volunteers who helped with the event.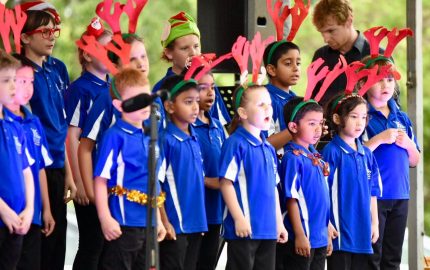 TERM 4 Concert Dates
QSC is excited to announce our upcoming concerts in Term 4. The first concert is Gala, which will be held at Old Museum of Brisbane on the evening of Saturday the 14th of November. A few weeks later on Sunday the 6th of December we will be presenting the New Farm Carols, sponsored by Councillor Vicki Howard and the Rotary Club of New Farm.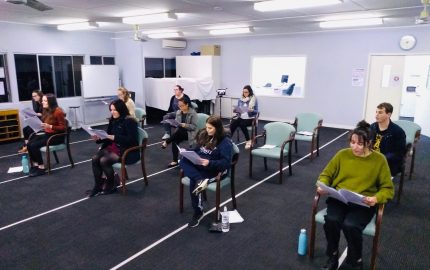 TRANSITION TO HYBRID REHEARSALS
As of Term 4 all of QSC's ensembles will have returned to some format for in person rehearsals.
POCO VOCI (Prep-Grade 4): In person rehearsals.
QUEENSLAND YOUNG VOICES (Grades 5-12):  Hybrid rehearsals with singers alternating between attending remotely and in person.
VOICEWORKS (18-30): In person rehearsals.
VOX POPULUS (18+): Hybrid rehearsals with singers alternating between attending remotely and in person.
Rehearsals 2020
Term 1: February 1-April 6
Term 2: April 27-June 29
Term 3: July 13-September 12
Term 4: October 5-TBC
Come Sing With Us
Ready to join the Queensland Show Choir?
Or have a few more questions?
Get started by sending us a message. We'll get back to you pronto!
Hire Queensland Show Choir for your Event
Maybe you need a singing flash mob for your next conference dinner. Or a sweet vocal ensemble for a wedding, fete, corporate party or product launch. Queensland Show Choir has singers of all ages ready to rock'n'roll, soothe or excite. We'd love to workshop your ideas to come up with a performance that's perfect for your event.
Contact us and let's start planning!
Hire Us