Interview with Gregory Moore, Brisbane Sings Soloist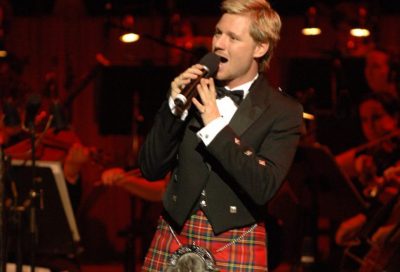 Gregory Moore in Scotland the Brave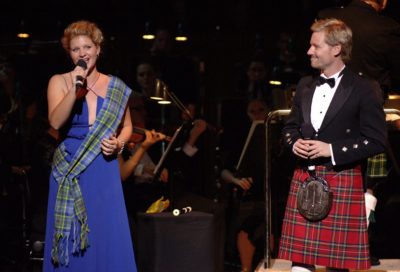 Gregory Moore and Mirusia In Scotland the Brave
Tell us a bit about your solo career. I understand you made your debut at the tender age of 5?
Yes, my first public performance was at a school Christmas concert. I sang 'Silver Bells' and have never looked back! I performed in school and community choirs growing up and played the lead in many school and community musicals. When I graduated high school, I went straight to the QLD Conservatorium, and that's when I became a founding member of The Ten Tenors. I also started my long association with the Queensland Pops Orchestra in a show called Scotland The Brave. Over the years I have toured that show around the world including shows at the Sydney Opera House and the Lincoln Centre in NYC. I also toured Australia in the National tour of Pirates of Penzance, as understudy to Simon Gallaher, and opposite the late Jon English. I've also sung our National Anthem at such events as State of Origin and International rugby games. I am certainly very grateful for the career I have had to date.
And what about ensemble singing? You are well known as one of the original ten tenors, but where did your journey begin?
Ensemble singing really started at home. My Father Tony, and Godfather Howard ,were professional singers during the 60's back in England, where they toured together in a band. So I grew up with music and singing at home. We sang what they sang, mainly Everly Brothers covers, so harmony was natural for me. When I was growing up in Adelaide (although I'm Brisbane born), I was the youngest member to join the Adelaide Youth Choir. That's where my love of choral music came from. As much as I love being a soloist, there is nothing quite like harmonising with another singer, whether it be a duet partner, an ensemble like The Ten Tenors or a trio like La Forza, like the other ensemble I sing with.
Why do you think choral singing is important, especially at a school and community level?
Music, and in particular singing is so rewarding, however it can be daunting for some. In a choir, however, you can enjoy all the benefits of singing with the safety of others. Every choir I have known has been crazy fun. You forge beautiful life long friendships and you can experience things that you may never otherwise experience, such as performing on TV or with famous acts.
What will you be singing for us on the night?
I will be pulling out some of my party favourites in this show, including 'Danny Boy', 'Making A Difference' and a few surprises too.
Do you have any advice for first time Brisbane Singers, especially aspiring professionals among them?
I feel I have built my career not just out of talent and ability, but also by being easy to work with and reliable, in every sense of the word. Always say YES to every opportunity and figure out the details later! You just never know what can come from saying yes to something, even if it may seem insignificant at the time.
Why should people come and see Brisbane Sings?
For me of course! Just kidding.
Seriously though, Brisbane Sings is such a wonderful initiative. It gives choirs the opportunity to not only to perform and showcase their talents, but also to share a wide and eclectic variety of repertoire. From traditional songs to contemporary hits, and everything in between, this is a show that literally has something for EVERYBODY! I am also very proud to be associated with an organisation that each year aligns with a very worthy charity. In 2019 we will be raising funds for charity partner Speld Qld Inc.
Any other thoughts?
For those that have been to Brisbane Sings before you know what to expect. But for somebody who is new and may not be sure if this is for them or not, trust me, come along. Bring your family and your friends and have an incredibly entertaining evening, supporting the best of what Brisbane has to offer.